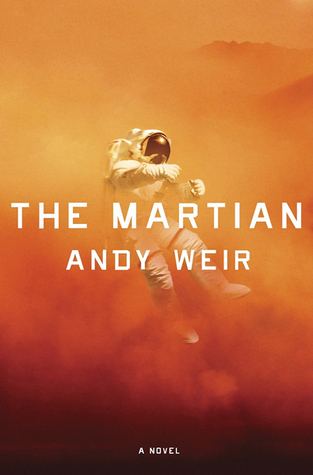 The Martian (The Martian #1) by Andy Weir
5/5 stars
369 pages
Synopsis: Six days ago, astronaut Mark Watney became one of the first people to walk on Mars.
Now, he's sure he'll be the first person to die there.
After a dust storm nearly kills him and forces his crew to evacuate while thinking him dead, Mark finds himself stranded and completely alone with no way to even signal Earth that he's alive—and even if he could get word out, his supplies would be gone long before a rescue could arrive.
Chances are, though, he won't have time to starve to death. The damaged machinery, unforgiving environment, or plain-old "human error" are much more likely to kill him first.
But Mark isn't ready to give up yet. Drawing on his ingenuity, his engineering skills — and a relentless, dogged refusal to quit — he steadfastly confronts one seemingly insurmountable obstacle after the next. Will his resourcefulness be enough to overcome the impossible odds against him?
---
So I'm late to the party on this one! I picked up The Martian because a patron recommended it to me. I was telling her that I need to read more science fiction, but my problem is that I need it to be as scientifically plausible/accurate as possible. Hard Sci Fi. I loved the amount of work Michael Crichton put into Jurassic Park and, as always, I'm trying to read more broadly. If you Google best hard sci fi lists, The Martian is usually always on there. It has also been on my radar since before it became a movie (which I watched and thought was alright). So, I picked up our second copy and dove in. And then I couldn't put it down.
Mark Watney's character is just hilarious. Much of the text is written in the form of prompts that he is using to record his life stranded on Mars. We get to see his strokes of brilliance and ingenuity as well as his tantrums and panic–which is what I think makes the book so easy to get in to. He is very relatable. Not so much in the rocket science, mechanical engineer, botanist smarts (thought that was great fun for me to read, understand, and learn), but in the humanity that he brings to his isolation. He probably would find that hilarious. Me bringing up his humanity as the sole resident martian. A dual-citizenship of two planets.
As for the science part, it fascinated me. I'm a science geek, so when Mark talks about bacterial reproduction for martian soil fertilizing, I'm hooked. (Okay, so don't let that sentence fool you. Weir really does a great job of making the processes funny and understandable.) Only towards the end of the book did some of the science go over my head and kind of left me glossy-eyed. But I still got the gist of what was happening and it wasn't really necessary that I understand the mechanics, it just adds a nice description of Mark's thoughts and the reasoning behind his actions.
I also liked seeing the Earth-side of things. How an people from across the planet ended up working together to bring a single man back home. We also get to see the bureaucratic and tight-pursed side of things. People wondering if the millions upon millions of dollars that are going into the project to bring that one single person home is worth it. How these costs will effect future space operations. What information gets spun or withheld and why. These things are a reality. There will always be someone to say that it isn't worth it to spend a lot of money to rescue a person. To question the worth of science. To say that science and knowledge are dangerous, so we shouldn't attempt to learn and understand more. What has space and NASA ever done for us?
We also see the effects that isolation has on Mark. How he handles the most intense and extreme difficulties and the constant facing of near-death. He is the ultimate example of resilience and overcoming your difficulties. What Would Watney Do? He'd love to see that on a bumper sticker. So would I, for that matter.
The Martian is a fantastic novel and has achieved my rare 5 star approval. I would recommend it to anyone, whether you are a science fiction junkie or a picky reader like me. Ignore the movie. Read this book.